Thank you to everyone who has stayed at our amazing property over the years... Windswept is so special and all of the wonderful guests make it even more so!
Your Hosts,
Mark, Wendy, Miranda, and Maverik

2017 to 2009 Guest Notes from Paradsie...
3/26/2017 Review on Tripadvisor.com
5 of 5 "Bubbles" - Perfect Family Get-Away
Left on Mar 26, 2017 for a stay in Mar 2017
Everything you read about Windswept is absolutely as advertised - fantastic well kept house full of all amenities imagined, great private heated pool, short walk to what feels like your own private beach, endless sea shelling, quaint island to explore - the list goes on and on. We brought a family of 8 with kids and grandparents and thoroughly enjoyed time together at the house fixing meals, barbecuing, swimming in the pool, playing the piano, and using the entertainment system. Daily activities included golf cart drives around the island, enjoying seafood followed by homemade ice cream at Barnacle Phil's, watching the dolphins swim, and kayaking/jet skiing on the ocean. And as mentioned by all reviewers who rent this property, the owners Mark and Wendy are BEYOND wonderful. Wendy helped navigate our unexpected late arrival due to flight delays(met us at 11 pm to welcome us to the island!!), and Mark would literally be at the house in 2 minutes if we had any questions or needed help. Just amazingly great people. If you are looking to "unplug" from the daily busy pace of life and relax with family while enjoying beautiful weather, the beach, and ocean waters - I can't imagine a better place than Windswept!!! Already planning our return!
guests from: Manhattan, Kansas

2/27/2017 Review on Homeaway.com
Amazing
5 of 5 Stars
Second time here and it was even better than the first!! Memories that will last a life time!! Mark and Wendy are wonderful to work with.
Submitted: Feb 27, 2017 Stayed: Feb 2017 Source: HomeAway
2/23/2017 Review on VRBO.COM
Fabulous house - MORE THAN FABULOUS HOSTS!
5 of 5 Stars
Wendy and Mark are FANTASTIC. Their home is beautiful, full of character, and equipped with everything (and far more) to make for a perfect vacation - books, kids movies, spices, laundry detergent, playpens, cribs, and double-walking strollers. They've thought of everything. The pool is beautiful and spotlessly clean. The ocean view from the crow's nest was my favorite place to start and end the day and sneak in a few chapters of my book whenever possible. Seeing the brilliant orange and pinks of the sun setting over the ocean from the crow's nest every evening was a perfect way to end a perfect day.
Everything is so well kept up. The beach is just a short walk away through a beautiful sandy trail. I can't say enough great things about this house and about Mark and Wendy. We've stayed in many beautiful homes throughout the past 15 years, but the hospitality Mark and Wendy showed to our family at Windswept will always stand out in my mind as the best.
Submitted: Feb 23, 2017 Stayed: Feb 2017 Source: VRBO, from HomeAway

11/30/2016 Review on VRBO.COM
Perfect Relaxing Getaway
5 of 5 Stars
This was our first trip to North Captiva, and we had a wonderful time. The house was perfect for a relaxing getaway. We brought our two small children and my parents, and were all comfortable in the house. If you are looking for a place to bring small kids, this is the house! It was fully equipped with all the kids toys and baby items you could need!
The owners, Wendy and Mark, could not have been more helpful. They helped us plan for and arrange our trip so that we had everything we needed, and went out of their way during our entire stay to accommodate us.
We loved North Captiva and this house!
Submitted: Nov 30, 2016 Stayed: Nov 2016 Source: VRBO, from HomeAway

9/25/2016 Review on VRBO.COM
Perfect Island Home
5 of 5 Stars
This was our fourth trip to Windswept. Each time has been wonderful. Mark and Wendy take exceptional care of their remarkable home. The views are exceptional. From golf cart trips to the beach, to Barnacle Phil's for ice cream, to the playground, every day is an adventure in a beautiful setting. Our kids and grandkids love the island and especially Windswept. If your looking for first class accommodations, with great owners in a tropical island setting, Windswept should be at the top of your list.
Submitted: Sep 25, 2016 Stayed: Sep 2016 Source: VRBO, from HomeAway

3/19/2016 Reviewed on VRBO.COM
Great week!
5 of 5 Stars
Wendy and Mark are great hosts/owners and Windswept is a great house. My wife and I, our two year old, my parents, and my aunt were all very comfortable there. The house is incredibly well stocked - the kitchen is over the top and the supplies for children (pack-and-plays, strollers, changing pads, toys in the house, toys for the pool, toys for the beach) were great. The house is right on the nature preserve border and is a great location. Very large, nice warm pool.
Submitted: Mar 19, 2016 Stayed: Mar 2016 Source: VRBO, from HomeAway
1/19/2016 Reviewed on VRBO.COM
Perfect in every way!
5 of 5
We loved our time at Windswept. Wendy met us at the Ferry Dock, instructed us on golf cart usage and lead us to the completely and beautifully appointed Windswept. The kitchen was fully equipped, the beds were comfortable, there are inside and outside dining opportunities, gas and charcoal grills, books and games galore, an enormous TV, a large heated pool, two inside jacuzzi tubs. We loved being close to the nature preserve, we walked everyday. Bird life is abundant, we saw a tortoise, shelling is wonderful, and the night stars were brilliant. Our only regret was that we hadn't booked a longer stay. We look forward to returning soon.
Submitted: Jan 19, 2016 Stayed: Jan 2016 Source: HomeAway

4/08/2015 Reviewed on VRBO.COM
Fell in love with North Captiva and Windswept
5 of 5 Stars
We just returned from our first visit to North Captiva Island and Windswept. We had an amazing time in a very beautiful place. The house is exactly as pictured and described, and Mark and Wendy are incredibly helpful and responsive to any questions and issues.
North Captiva has some unique qualities, you need to take the water taxi to the island, and we elected to have our groceries delivered. There are only a couple of on-island restaurants, but with the large and well stocked kitchen at Windswept, cooking your own meals is a breeze ( literally, with the island breeze coming through the windows).
Highly recommend this house and location, and Mark and Wendy as owners.
Submitted: Apr 8, 2015 Stayed: Mar 2015 Source: VRBO, from HomeAway
10/26/2014 Reviewed on VRBO.COM
Love to vacation here - love to have a home that feels like home
5 of 5 Stars
This was our second visit to North Captiva - it cemented that this is our favorite Florida getaway. What we loved about Windswept is how much Mark and Wendy make it feel like home. The kitchen is amazingly well organized and stocked. (Wendy even has a map of the kitchen with where everything is/belongs). Need a food processor - they have one. Need a spice you forgot to bring with you - they probably have it.
When you want to entertain yourself or the family - they have it covered. The selection of movies if there's a rainy day (we certainly didn't have any but did have movie night) is very complete with recent movies, favorite movies and classic movies. Plus there is a closet full of games to make family time fun time.
We love North Captiva and what it brings to our family. On this trip we spent time with a family of manatees, kayaked to see amazing birds, dolphins, stingrays and flying fish. We spent a lot of time at Mango's with Suzy, Matt and Yanni (world's best bartenders). We were also blessed, because we stayed at Windswept, right on the border of the sate park, to see the bobcats. This is the perfect place to connect with family and disconnect from the world (although the wifi worked perfectly). We would highly recommend Windswept as your home for the perfect vacation.
Submitted: Oct 26, 2014 Stayed: Oct 2014 Source: VRBO, from HomeAway
5/29/2015 Reviewed on VRBO.COM
WINDSWEPT…The Place to Stay to be swept away!
5 of 5 Stars
Mark and Wendy have an amazing home they are willing to generously share at an affordable price with others while still maintaining high quality of service. Their amenities they offer, just in their home, were completely unexpected! Two beautiful washers and dryer units, comforts of home from spices in the chef's kitchen to the choices of gas or charcoal grilling with table outside. Traveling by plane does not offer a lot of room for bringing many items and Mark and Wendy keep it affordable with many unexpected stocked items.
We initially were interested in Windswept because of the beauty of the home and what sold us was the hospitality of Mark and Wendy even before our arrival. Having never been to North Captiva was a little unsettling on not knowing what to expect and how to prepare. Every phone call and every question was answered in patience and kindness even when their normal duties as parents were carrying on.
Windswept is all that is pictured on their website. I hesitantly recommend only because I always want it to be available for rent to us! Of course, I say that with humor and a little truth too though. Mark and Wendy personally showed us how everything worked in their home from the media to the appliances. No worries about restful sleep; the beds were amazing and gave much welcomed rest after each day of adventure. The bathrooms were filled with towels, first aid, hair dryers, etc. along with refreshing showers and Jacuzzis to ease the muscles from miles of exploration.
Mark and Wendy were always available for questions, but thankfully no problems occurred. Their relationship with NCIC must be top notch as check in and check out was already completed by them. The round home with the complete deck surrounding always gave us access to the beautiful sunrises and sunsets along with the occasional yell down to the pool for our kids to come up for dinner. Each morning our family would meet in the outdoor living room with coffee for event planning and laughing over memories of the previous days. My dad found serenity in reading out there as well. The eagles nest captured an awesome view of the water on both sides of North Captiva while the "savannah" sets as your footstool with many paths that lead to the ocean, either for walking or bike riding.
The golf carts were a blast to ride around in. If you are looking for quality, beauty, comfort, clean, and elegance with the warmth of the beach, Windswept is the place to stay. The Ciccos'
Submitted: May 29, 2014 Stayed: May 2014 Source: HomeAway
4/10/2014 Review on TripAdvicor.com - Amazing holiday , amazing home !
Cannot recommend this holiday enough , the house is beautiful , the scenery is amazing and the beaches are beautiful. The Mullers have been fantastic !
guest name: The Stannards' - United Kingdom
4/6/2014 Review on Homeaway.com - Wonderful Stay
Spent Spring Break with two other families; 6 adults and 6 teenagers. Had a wonderful time at Windswept and on the island. Great home - well equipped with everything. Mark and Wendy were great to work with before, during and after our stay. This island is fabulous - good fishing, so much wildlife and a truly easy-going feel.
guest name: The Arringtons' - Minnesota
Vacationed at Windswept in April 2014
3/15/2014 Review on Homeaway.com - Great house for family reunion!
This was our fourth visit to North Captiva and our first to Windswept. It was the perfect house for our group of 8: 6 adults and 2 teens. We found the opportunity to stay in such a unique circular home a big part of our vacation island experience. My husband and I liked using the kitchen which was the best appointed of any rental property we had experienced. Also, the immediate view from the stove or counter was of the living area with our family watching TV, playing games or doing jigsaws and then the bigger view out through the expanse of windows was of the nature preserve and sunsets spread out before us. My adult children enjoyed lounging by Windswept's pool or swimming in the perfect temperature water. My teens loved hanging out on the various levels of the tower on their phones, taking pictures, sorting through the shells they had collected and sunbathing. The house was full of extras like a basket of sun hats, a cupboard of games, great movie selections and plentiful beach towels. And the double washers and dryers in the house were easy to use and convenient. Best of all, Wendy and Mark welcomed us at the dock and were available by cell for help with a golf cart, advice on where to see manatees and even gave my husband construction adhesive to fix his blown out Chaco! They live and work on the island and we enjoyed getting to know them. And we took their recommendation and got Sandies' grocery service, de-stressed this mom's vacation! Can't image a way the week could have been better.
guest name: The Heils' - Tennesee
Vacationed at Windswept in March 2014

8/21/2013 Review on Homeaway.com - Island paradise!
There were 3 different families in our party and we had a truly memorable holiday. Just what was needed after 4 hectic days in New York-complete peace and relaxation. Wendy and Mark were efficient, friendly and very helpful. Windswept is a beautiful property and you really feel like you are staying somewhere a little bit special and different. The house is fitted out to a really high standard and it feels vey homely-not like a lot of rentals that are functional but a bit soulless. Love getting about on golf carts, the proximity of the beaches and all of the natural wonders around us-including the bioluminescence we stumbled across in the sea at night. Would love to go back.....
guest name: The Gilligan Family - United Kingdom
2/12/2013 Review on Homeaway.com - "Wow Wow & WOW!!!!"
My family stayed for a week. Two adults and 5 children spanning in age from 2-18 years. We loved the privacy, the seclusion, the isolation! The views were so beautiful from EVERY room. We could watch crashing waves in a sunshine filled sky or thunderstorms rolling in from the distance or bright constellations against a black curtain sky during the night...all from the multi level viewing tower. I can't say enough good things about Windswept. Everything is as pictured and as listed. Very well equipped. Toys, movies, video games, kitchen supplies, and towels. It's beautifully decorated and very clean. Using golf carts to get around the island was fun and useful. There was another beach you could only access by foot, but it was quite a walk and a bit of work to carry your beach supplies, however, way worth it! What a gorgeous beach! In the future, some sort of wagon would be super helpful. Mark & Wendy went above & beyond the call of duty to make sure everything in the house ran smoothly and flawlessly. Very professional. We hope to be back in 2014.
guest name: The Scott Family - Michigan
Vacationed at Windswept in September 2012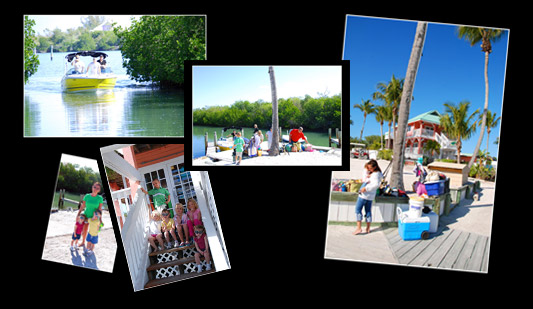 10/29/2012
Just wanted to drop you a line and say thanks for helping make our time on North Captiva exactly what we wanted and imagined it to be. We had intended to leave a message in your guest book, and suddenly realised that neither of us had done it when we were on the ferry back to Pine Island – bit late by then!!
Now back in England we are left with great memories of a fabulous holiday, for different reasons its right up there with other great holidays we have had all over the world.
For us a fabulous contrast having had a few days in New York City, the island and property allowed us to really unwind and relax. For us it was a real home from home, but the importance of Mark and Wendy living on the island cannot be overstated, they were really helpful without ever being intrusive and when we had a small problem with the internet connection it was resolved in 10 mins. Would not hesitate in recommending a stay here.
guest name: Andy & Pav Smith - United Kingdom
Reviewed August 14, 2012 for a stay in July 2012

We stayed as guests of Mark and Wendy Muller in July 2012. Their home, the Windswept was exactly as advertised -- beautiful and perfect! The open design of the home made for a spectacular stay for the eight of us. Mark and Wendy live on the island and make themselves available upon arrival, adding a lovely personal touch. Having a background in commercial high rise property management, I can tell you that these folks and their home are nothing short of top notch. From designer bedding to appliances and cookware, there isn't anything that they didn't think of. We were so impressed with our stay at this gorgeous property. Thanks again, Mark & Wendy, for making our summer family vacation so very memorable. We have been telling everyone about it and hope to be back soon!
guest name: The Couch Family - Georgia
Reviewed August 16, 2012 for a stay in July 2012
Every year we go to Disneyworld. This year we decided to try something new, and it did not disappoint. The home was perfectly beautitul, clean, large, and walking distance to the beach. 
The swimming pool is very large and easily accomodated the 7 of us.
Mark and Wendy, the owners, checked on us daily to make sure we were doing okay. 
Every appliance was high end, we had crockpot, blenders, coffee press, Keurig, etc. We slept on a wonderful temperpedic mattress with Ralph Lauren pillows. 
The views from the home are so beautiful. Large windows in every room and beside the 2 person jacuzzi tub. The shower in the master bedroom had 2 heads and could easily fit 3-4 people inside. :-) 
The internet wifi was fast and it was easy to stay connected. There was a landline phone and fax machine available and we had great cell service (ATT.) The pictures shown on tripadvisor are accurate. 
My daughter left her ipod at the home, and Wendy put it in the mail for us as quickly as she found it. Mark is very knowledgeable about the island and seemed to be a really great and caring guy.
When we arrived, Mark and Wendy met us at the home with fresh, warm cookies.
We received our deposit back within 24 hours of returning home.
I would not hesitate to book this vacation again. The entire family said they preferred this trip to Disneyworld, and I have to agree.
guest name: The Kinnison Family- Oklahoma

Reviewed May 21, 2012 for a stay in May 2012
We just got home from a one week stay at Windswept- our best vacation ever!! We had 8 adults with us and three kiddos, ages ranging from 1-70's. The house and island had it all!! It was so easy so if the idea of traveling to an island and coordinating a ferry, etc. with kids seems daunting just go for it. Mark and Wendy made everything so easy and it is well worth the effort! The house could not be better equipped with an indoor play area for kiddos, dvds, children books, family games, xbox, putting green, outdoor mini kids slide, jogging strollers, high chairs, pack and plays. The island is so cute and has several restaurants, two additional pools, kayaks and bikes that are included with your rental. The beaches are pristine with amazing sea shells. To top it all off- Wendy and Mark helped me make this a surprise for my mother and it went off without a hitch. Wonderful, wonderful! I can't say enough great things!!
guest name: The Klasnicks - Colorado
2/14/2012
"I had a blast at your home. It is very relaxing! This is one of the places where I have lots of fun! I will never forget it here."
guest name: Lauren - New Prauge MN
From the Beginning... Windswept Guests Have been loving their vacations here! Windswept's charm endures over the years.... and guests just discovering this beautiful luxury property are constantly impressed, amazed, and relaxed by Windswept's continuing island beauty.
"Thank you for a wonderful vacation! The home was perfect. We loved the beach (all of them!) and finding dolphins, tortiOur kids (ages 4 & 1) loved the toy room. Thank You!"
guest name: The Lynchards - San Antonio TX
1/14/2012

"We had a wonderful time at Windswept and throughout North Captiva."
guest name: The Wolf Family - WI
1/8/2012
"I joined my sister Tami Wolf and her family for two glorious days of quality relaxation time. Drove up from Naples. Never knew little Captiva existed until my sister, from Wisconsin, discovered this rental on the internet! Wish I couls stay longer. THese happy memories will serve to bring a smile whenever I recall this special place and the time I spent here with my family."
guest name: Kim Linssen - Naples, FL

11/25/2011
"Thank you again for making our vacation so relaxing. It was one of the best vacations our family has ever had. It was also really nice to have a chance to chat with you and Mark on Thanksgiving."
guest name: The Brandino Family - Atlanta, GA
11/12/2011
" We all want to thank you ,again, for letting us share your beautiful home & wonderful tropical island. We all had a great time & will remember this vacation forever!
I did, finallly, get to writing a review. I hope it is ok. It's hard to put in words what a great location you have there. We all cannot wait to come back again!
I hope you have a nice holiday & hope to see you again sometime soon. You are very gracious hosts to say the least."
"Our family, for "Papa's" 60th birthday, stayed at the Windswept home on North Captiva Island . This beautiful home is located right near a State owned nature preserve. It is a one of a kind "round" 5 bedroom 2 bath home with its own swimming pool & put-put golf. Owner's Mark,Wendy & Miranda made us feel like family. Their home attended to our every need and more! We spent every morning enjoying the pool,golf,or numerous family games provided at the home. After lunch,we all had fun exploring the "tropical island" ; taking nature walks through the state preserve to the unihabited beaches, collecting sea shells, making friends with turtles, fishing off Barnacle Phil's landing, watching the dolphins swim close to the shores, or just exploring the island's paradise and all it has to offer on golf carts. At night we could relax on 1 of 3 decks to watch the beautiful sunsets or later watch many a family movie or spend quiet time reading a vast variety of books provided. Our whole family including 4 children ,ages 6-13, & an aupair from Sweden, & 5 adults can't wait till the next time we can come back, maybe for my 60th!! "
guest name: The Waterhouse Family - Ohio
10/29/2011
"We had a great time staying at Windswept a couple of weeks ago. Thanks so much for making the stay go smoothly."
guest name - The Heckamans - Indiana
10/22/2011
"We are missing the daily shell hunts!"
guest name: The Mallalieu Family - Maryland
10/15/2011
"We had a great time on Captiva and especially in your wonderful home Windswept.
Good memories last forever!"
guest name: Katharina and Martin Bütikofer - Switzerland
7/9/2011
"We had a wonderful time while staying at Windswept. The house is very beautiful. We are so thankful that you alowed us to stay in your home. Windswept is far beyond the other houses on North Captiva!"
"We had a fabulous time on North Captiva - your home is beautiful... loved cooking in your kitchen.
guest name: The Doubles Family - Virginia, South Carolina, and Texas
6/25/2011
"We had wonderful time in you house. Loved Everything! Thank you so much for sharing your beautiful home. Very relaxing!
guest name: The Polomis and Bradley Families - Wisconsin
6/8/2011
"Where do we start to say thank you! Your home is beautiful! We love the island... a part of Florida that we had never experienced! Our 1 week stay here with our son, daughter-in-law, and 3 Grandchildren has been full of fun, memories, andonce in a lifetime experiences! We hate to go back to "the real world" FOR SURE. Thank you for your gracious hospitality. We can't wait to tell everyone about our trip!"
"Thanking you again for a wonderful family vacation in youe home. Everything was as beautiful as we remembered it! Hopefully we will be blessed enough to come back again! See you soon!"
guest name: The Allgier Family - Louisville, Kentucky
5/31/2011
"Thank you for letting us stay in your home. We had a wonderful time here on North Captiva!
guest name: The Slomba Family - Vancouver, BC
4/30/2011
"We had such a wonderful week in your home! Thank you so much for the wonderful hospitality you showed us. Everything was perfect. This is just what our family needed - a nice, relaxing get away to litterally do Nothing! We really enjoyed ourselves and the kids had an absolute blast!
guest name: The Dubucs - Michigan
4/16/2011
"Thank you for your beautiful home! We appreciated the way it was as well equipped for the children as it was for the adults. Mark, Wendy, and Miranda were welcoming and gracious hosts - and very responsive to any additional questions we had both before and after the trip.
We particularly enjoyed the pristine beaches, tennis first thing an the morning and the many resting spots in the house. North Captiva is a haven of tranquility - a real getaway from the hustle and bustle of city life. We are coming back soon!!
guest name: The Teleki Family (Toronto, Canada and Cambridge, UK)
3/19/2011
"Hello! I had lots of fun in North Captiva. I saw lots of turtles and had lots of fun in the pool. There was also a large number of dolphins. I had my Birthday in Windswept and got a camera. It was sad leaving but it will be one of those days I'm not gonna forget.
Sincerely, Julia (Harmon) Age 8
3/19/ 2011
"We had an absolutely lovely time at Windswept. Each day seemed to be more perfect than the one before and nowhere could have been better to enjoy it from than your beautiful home.
My only complaint was that it was so comfortableI had to drag my daughters reluctantly to the beach! We wanted for nothing, and definitely home to return."
guest name: The Harmon Family - Ontario,Canada

8/14/2010
"The island is so peaceful and tropical. We felt like we were so far away from civilization. Great place to appreciate your family and what is really important."
" We don't get together too often and we've never stayed together a week but it was AWESOME! The whole environment made us all relax!Thank You!"

guest name: The Romano Family, New York
8/7/2010
"We have no words to accurately describe this past week. I will try - here relaxing (much needed after a deployment and 3 blizzards this year) beutiful home and tropical island! "
"We had a phenomenal time! We will be sure to tell everyone to come and visit Windswept."
"The teenagers really enjoyed having some down time with what they do best - playing video games. It was perfect for them to relax after a day of sun and fun."
"Thanks again! We truly had a fantastic time!"
guest name: The Adams' from Maryland
7/23/2010
"Thank you for the wonderful time in your home. We had a great time and will remember this trip forever! You and Mark took care of us and truly made us feel like pampered guests!"
"What a great time we had!"
from the kids:
"the stay here that my family and I had was amazing. I hope to come again next year with my family!" by Madison C.
guest name: The Johnson Family
7/2/2010
"Thank you for the wonderful week in your beautiful home. We really enjoyed just relaxing, eating, and enjoyed spending time with our famiy."
"We also enjoyed the music night with you! You have a lovely place and Miranda is a lucky child to grow up here. God Bless and hope to see you again."
guest name: The Sims Family
Special Travel Deals are AVAILABLE
for remaining Dates.
6/19/2010
"Thank you so much for sharing your beautiful home with us. It was an amazing experience being here on the island. It was so nice to get away from our busy lifestyles and just relax for a change. We can't wait to come again."
guest name: The Dishman & Obregon Families
6/12/2010
"We loved the island and plan to return. The nature and general peacefulness were terrific."
"Thank you for sharing your beautiful home!Our family had such a great time. You have such and eye for the decorating. When we return home Tempurpedic mattress shopping is ON the list!"
guest name: The Voelker Family
SEE Windswept and North Captiva on Facebook ...
6/4/2010
"We can't thank you enough for sharing your amazing home on a little piece of heaven! It was our first time on the island and defintely not our last! Our children have enjoyed everything from the playrom to the beaches. It is by far the most "kid friendly" place we have ever stayed."
"You have honestly thought of everything! Hope to see you again next year!"
guest name: Allgeier & Adams Families, Kentucky
5/14/2010
"We came from a mixture of places to unite as a combined family, and WE DID IT!! We enjoyed the island. Windswept was great!! Location to everything, seclusion also.We enjoyed things from sunset to sundown."
"We had stargazing 101 - searching for satellites moving in the atmosphere above. We counted over 20 one evening. We walked - kayaked, swam in the pool and topped it off with a cruise or two in the golf carts."
"On and on the fun and memories were created. Thank you for the opportunity and the use of this wonderfu home. We truly enjoyed what was provided. Thanks Wendy, Mark, Miranda for letting us to "invade your space" :) "
gest name: The Hansen's and The Stoke's, Texas, Orlando, St. Cloud MN
5/1/2010
"We all had an amazing vacation on this beautiful island. You have a beautiful home with everything you could possibly need."
" The weather was perfect, the sunsets spectacular and wildlife at every turn. Everyone enjoyed the golf carts and their funny nicknames."
" Thank you for your hospitality. We will remember this vaation for years to come. Great Time! Wonderful!"
guest name: The Messina & Peters Families
4/23/2010
"Wow! What a wonderful spot - What an amazing vacation! Thank you for opening your heavenly home to us! We truly felt we had arrived at Paradise."
" Your vacation home was welcoming, well equipped, and everything we homed for (and more). We already have "island withdrawal." Very sad to be leaving tomorrow but we are grateful for the memories."
" You went the extra mile and we noticed all of your attention to detail - everything you did to help make our stay as enjoyable as possible. Thank You! We will be back - your home, this beautiful island, is soul food."
guest name:The Holba & Honderich Families, Canada
SEE MORE Windswept and North Captiva on Facebook ...
4/2/2010
"Thank you for sharing your lovely home. We managed with 5 teens and 2 adults... The sunsets here are beautiful. We enjoyed lunch at Over the Waterfront and a lovely diner at the Boathouse."
guest name: The Hatton Family, New York
3/27/2010
"It is a fantastic vacation island and especially this house. We would definitely come back again."
"Thank you for letting us stay in your house, we loved North Captiva. We had a great time every day. I hope we can come back sometime soon."
guest name: The Hill and Santi Families, Chicago Area, IL
3/20/2010
"Great place, loved Windswept. All was wonderful."
"As expected, simply superb."
"What a beautiful home! Thank you for sharing it w/our families. Amazing sunsets, beautiful view of the stars. Loved being next to the park area where we could walk and jog to the beach."
guest name: The Lepak Families, Tulsa, OK
3/13/2010
"Loved the privacy of Windswept. Fabulous to not hear a car for a week. Loved the hospitality of Barnacle Phil's and Grany in the ice cream shop."
"The loft was fabulous for our 3 year olds. They loved having thier own beds an space. The heated pool was great. Plenty of lawn chairs and umbrellas. Many battles on the mini golf course! Overall the best part of Windswept is that we were able to relax!"
guest name: The Blanchard Family and Dubois Family, Milton, VT
2/20/2010
"Good morning Wendy, Mark and Miranda! Thank you again for letting our weary bones land earlier yesterday! The house is absolutely amazing, we love everything!!! Privacy, comfy beds...beautiful artwork ....majestic views...an absolute treasure... we're off to explore...thanks again!"
"We arrived home Sunday 1 a.m. We hit some traffic in DC but made it through eventually. Thank you once again for your hospitality and opening your beautiful home to our family, what a treasure!
We hope to see you again soon,
Fondly,
The Browns"
"We have 2 inches of snow with 8 more coming, North Captiva take me away! Thanks again for a wonderful get away..."
guest name: The Brown Family Unionville, CT
Review Submitted: June 20, 2012 Date of Stay: January 2010
We stayed here two years ago for an extended family vacation. We have taken a number of vacations since and have not found this vacation home's equal. Gorgeous home, beautiful setting. Gourmet kitchen - I think they even had a chocolate temperer. We used the latte machine every morning. Can let the kids wander on this car-less island. A couple in our party did not like the lack of touristy shops, but that was a plus for my husband and me. I plan to go back and I recommend Windswept to my friends who value serenity. Wendy and Mark are affable and take VERY good care of this property. No absent owner on this property, like I see with a lot of others.
guest name: The Bryan Family Carmel, IN
1/23/2010
"Very relaxed pace, very beautiful"
What did you like the best? The Jacuzzi
"Loved the Kitchen, we cooked gourmet meals each night."
guest name: The Bryan Family Carmel, IN


10/24/2009
"Loved the location. Very Prvate. The view was beautiful, liked having 2 golf carts as opposed to 1, liked having 2 washer dryers. Plenty of baby furniture."
Did we meet your expectationsat Arrival/Reception? Above and Beyond!
"The privacy and outdoor space of this home was exceptional. Kitchen is beautiful as is living space. We loved the pool and treetop. Loved the many options outside for private space for relaxing or reading. "
guest name: The Bowman Family Hoffman Estates, IL
10/7/2009
What did you like the best? The Beach, The Pool, The Treetop Tower, The Golf Greens, THe Golf Carts, The Beds, The Kitchen, The Location, The Cookies? ALL of it!
" Very calming and peaceful."
"Love the views and quiet solitude along with the proximity to the nature preserve and beach. Overall it is a beautiful house on a beautiful island!"
guest name: The Belyaev Family McHenry, IL
SEE Windswept and North Captiva on Facebook ...
9/21/2009
"This is one of the beast vacations we have taken. The island would not appeal to everyone- no "nightlife." For us, it was perfect and we can't wait to return.
" We felt right at home due to your hospitality and this beautiful welcoming home. What a perfect place to return to after exploring the island every day. Wendy - your art is superb - we enjoyed being surrounded by it. You guys have thought of everything for your guests. This turned out to be the perfect 50th Birthday gift for my husband, John. Thank You!"
"As you know, this trip was my birthday present (50th)to my wonderful husband, John. Also, it was a celebration of that after more than 5 years on active duty in the Army - and therefore, living apart - John is coming home and we live together again... John said it was onf our best vacations ever - and we have vacationed all over the world. "
" As a 4th generation Floridian, I enjoyed experiencing Florida more as I remember it from my childhood on Merritt Island."
guest name: Victoria and John Amato San Francisco, CA
9/13/2009
" North Captiva is awesome! It's the perfect vacationdestination. Loved the beaches, the secluded island life, the house is awesome!"
"This vacation coundn't have come at a better time & coming to Windswept was so perfect for us. We loved coming here and getting aweay from it all & just being able to focus on our family for a few days. We wish we could've stayed longer." - Duane & Jen Vancil
" Thank you so much for the opportunity to stay at Windswept this week. This was the perfect vacation destination & we loved it here so much!Your home is beautiful & the island is spectacular. This place is the perfect definition of "vacation." We loved every part of our stay here and are very sad that we have to go home. Our stay here was not nearly long enough." - Vancil & Albright Family 2009.
guest name: The Vancil & Albright Family
7/25/2009

What did you like the best? The Beach, The Pool, The Treetop Tower, The Golf Greens, THe Golf Carts, The Beds, The Kitchen, The Location, The Cookies? All of the Above!
guest name: The Joe Mettler Reunion... all over the USA, MO, and VA
Check out our latest TRAVEL DEALS at Windswept

7/5/2009
"It is perfectfor anyone who wants to relax and get away from it all. We had a lot of family time and a great mix of swinning, beach fun and doing nothing! You are definitely not on the clock here. I recommend the wave runner rides with a guide"
"We loved the house and location. It was great not to have to run around "doing" thingsall week. We took our time and did whatever we wanted. It felt like we had the island to ourselves a lot of the time. Everyone was very friendly and helpful. We were able to totally relax. Our biggest decision each day was pool or beach! Thank you for your hospitality and for sharing your lovely home."
guest name: The Campbell Family MN
6/27/2009
"Wonderful experience overall! Loved the nature preserve trail & beach! Cayo Costa was great too."
"We absolutely loved it all -- your house is magnificent -- wish it were mine! You are a great family and we enjoyed everything about our vacation! Thank you! Thank you!
guest name: The Powell Family Pittsburgh, PA
6/20/2009
"It was a wonderful vacation! Mark & Wendy, you were both wonderful. You have a beautiful beach home and we hope to be able to come back soon. Thank you for everything. "
"What a wonderful week we've spent in your beautiful home. Thank you so much for making our stay so enjoyable and memorable. We hope this is the first of many more in the future. Take good care. Thank you from all of us. "The Pedrosos""
guest name: The Pedroso Family Miami, FL
6/13/2009
"We love the privacy next to the preserve, saw lots of nature, kids enjoyed their own playroom. You both made us feel very comfortable in your home, thanks for sharing it!
"Have been coming here [North Captiva] for over 15 years - always have a memorable time."
guest name: The Frank Family - Ocala, FL
Become a FAN Windswept and North Captiva on Facebook ...
6/8/2009
"We got away before we could fill out the questionnaire you left, but I just wanted to let you know we truly enjoyed our stay at Windswept. The house and amenities were over the top. It served our family's needs perfectly."
"I can't tell you what we enjoyed the most—the pool, the beach, the kitchen, the beds, but most assuredly the cookies were a great surprise! We hope to return someday. Thanks for everything!"
guest name: The Griffith Family - Gladstone, MO
6/6/2009
"We love your house and want to come back next summer. Thanks a bunch you all were great!"
guest name: The Clayton Family - MO
5/23/2009
"This home is beatiful! It was great for a two family vacation! With somewhat rainy weather - the playroom was a hit! THANKS!"
"We traveled from Hershey, PA (with 3 children under 2) by car to enjoy the beautiful island of North Captiva. Well, it was worth the drive!"
guest name: The Drysdale Family and the Cassel Family from Hershey, PA
5/10/2009

"We had a wonderful time! Magical! Your home is beautiful. Thank you for your hospitality.
guest name: The Davises from Denver, CO
P.S. We will hold Windswept as a very special place because there was an engagement on the beach!!
EMAIL US FOR AVAILABILITY AND RATES
5/2/2009

"We've been coming to this island for many years and this was the first house we stayed in that made us truly want to stay FOREVER!! Your home made us feel so comfortable and genuinely "at home" We loved the vacation! -We will be back soon! xoxoxo
What did you like the best? Everything :)) Windswept Rules
guest name: The Dominguez Family, Hollywood, FL
4/19/2009

"We don't want to leave! Can't we stay one more week in Paradise? Hanging on! The Zelch's :) P.S. Wendy & Mark Rock!!!!!"
Would you consider another stay at Windswept? Definitely!!!
"It was definitely one of my favorite vacation spots! I would definitely LOVE to come back!"
"Your home is absolutely perfect! Your hospitality was outstanding!"
"It was definitely one of our favorite vacation trips! We want to come back, speaking from the ages of 89 years young to 2.5 years old... it was the bomb!"
"Your home is perfect & the hospitality was outstanding & enjoyed by all from young to old! We felt as if we had a new friend on the island! We are looking forward to coming back soon! Thank you so much!"
Tell us about our services:
House Decor and Furnishings ---- "Above and Beyond!"
What did you like the best? ----- "We love your cookies and everything else!"
guest name: The Zelch Family, Colubus, OH
Special Travel Deals are AVAILABLE for remaining Dates.
3/14- 3/21, 2009

"Perfect weather, well appointed accommodations, thoughtful hosts all on an island with no cars in the Gulf of Mexico. It doesn't get much better than this. Many thanks for a truly first class holiday. Best wishes from Tim, Ellen, Samantha, Luke, Mark, and Collen too!
guest name: The Schoffer Family, Toronto, Ontario
SAMMA LAMMA (AKA The Schoffer Family :))Toronto, Ontario, Canada
Review Submitted: March 26, 2009 Date of Stay: March 2009
Let me say that "IT TAKES ALOT TO IMPRESS ME AND I WAS IMPRESSED !" A perfect private pool, luxurious well appointed accomodations, every kitchen appliance/device known to man. Attention to all the right details with a quick response, by the owners, to deal with any requests. Loved the great room. The perfect place for families to reconnect at days end, after viewing sunsets you have only pictured. Plan your menu and make sure to bring all your food/drinks/snacks etc. with you. The extra initial effort will ensure a worry free week. Several restaurants and a general store, on the island, if you have forgotten something or wish to do less. Enjoy the native wildlife, dolphins, manatees, skates, tortoises, snakes, hawks, eagles. If fishing interests you, dont' let this opportunity slip by. Sign out a bike, kayak, rent a boat/ jetski OR simply lay in the sun with a good book and do nothing. No cars, only golf carts and sand roads. Hard to describe but think Gilligans Island with all the amenities. Mark and Wendy provide it all. I don't think that any place can be perfect, but in our thirty years of vacationing, for us this was not too far from it and exactly what we were looking for.
Recommended for: Sightseeing, Families with Teenagers, Adventure Seekers, Tourists without a Car
We Would Love to Have You as Our Guests at Windswept.
3/21/2009

"The Island is great. My 1st time to N. Captiva and enjoyed the people and everything else the island offered. Particularly liked the solitude."
"Thankx so much for a very relaxing vacation. I love your house - you have done a wonderful job decorating and there is everything in your house that we needed, wanted, or desired. The pool is beautiful and love the privacy. The weather was great"
What did you like the best? The Pool and the Location
Would you consider a stay at Windswept again? Definitely
guest name: Colleen Scully, Toronto, Ontario, Canada
3/28/2009
Hi just sending you a reminder of how thankful we are for the
exceptional service you provided to ensure we had the vacation of a
lifetime. - Shelli Harrigan.
3/14/2009

"Everything was perfect!- Taylor"
"Too busy having a great time in this beautiful home on this amazing island to leave a comment!"
"So sad to leave, we will be back!"
guest name: The Harrigan Family, Canada
Are you ready for the vacation of a lifetime? Plan Your Vacation to North Captiva Today!
03/07/2009

"We found the island very charming, quaint, most beautiful beaches, sunrise, sunsets, not jam packed with tourists - yet."
"Great for families."
"We packed too many items - they were here- thank you!"
How would you rate our home, Windswept, overall? "The Best Beach Vacation Ever! Don't know if they spoiled us!"
guest name: The Van Hoecke Family, KS
Windswept Family Vacay March 2009
3109 Overland Park, KS
Review Submitted: March 16, 2009 Date of Stay: March 2009
The Windswept home is beautiful - inside and out. The accomodations are truly luxurious. The home is stocked with everything you could possibly need in a home away from home. The beds and linens were 5 star. The views from the tower are breathtaking, and we enjoyed the sunset every evening! The house was perfect for our family reunion - among us all, we had 6 kids, who also had the time of thier lives!
Recommended for: Girls Getaway, Families with Young Children, Families with Teenagers, Romantic Getaway
02/21/2009

"Very relaxing - low key- but plenty to keep busy!"
"Very Clean, Comfy- the toy room was a big hit!"
"Every need was met before we arrived + while we were here."
"The pool + location were fabulous, being next to the preserve was great as the kids got to see lots of animals [gopher tortises], take long walks + collect shells, not having neighbors on top of us was a big plus!! We all thought North Captiva would be a repeat vaca! We enjoyed
our stay - Thank you Penny, Greg + Timmy Fonde"
How would you rate our home, Windswept, overall? "Much better than expected."
guest name: The Fonde Family, NY
North Captiva Island Vacation Rentals