About North Captiva Island Dining
Mainstay North Captiva and Barnacle's Bar- Classic island fare. Great atmosphere dining along the harbor.. fun funky island charm. Totally a renewed island landmark...been here since the 60's when Phil Kinsey would "run out" of hamburger buns... he'd hop into his plane and zoom off to Ft. Meyers for more supplies. Friends of North Captiva will remember this place in it's past life as Teh Barnacle's Restaurant. See what's new and add it to Must Do List! Great place for lunch... dinner, or drinks too.
Stor and Sundries at the Mainstay... Coming Soon is a new store for the island up above the Mainstay.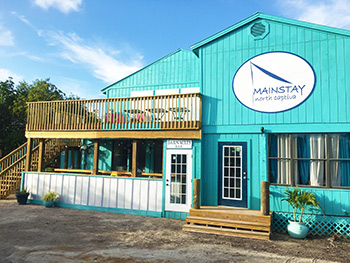 Boat House Restaurant - Fine and elegant dining on North Captiva? Born in a charming place that really prides itself on at least "flip flops" required policies throughout the island, Boathouse dining gives you a chance to break out the "fancy dress-up" outfits you couldn't resist packing. Dining at the Boathouse Restaurant is available to you as our Guests with NCIC registration.
Over The Waterfront - Dine over the water... great for lunch, dine outside on the water watch the boats go by and enjoy! Dinner reservations available. Open to Safety Harbor members and Dining members, ask us for details. Word is that Chef David offers a superb Bananas Foster and it is a must try for dessert... no matter where you dine.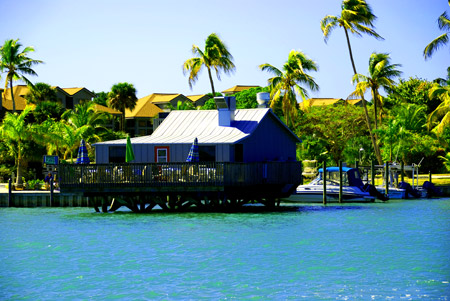 Chef David prepares "Banana's Foster" at the OTW
Mango's Island Grille - Take-out food, poolside dining.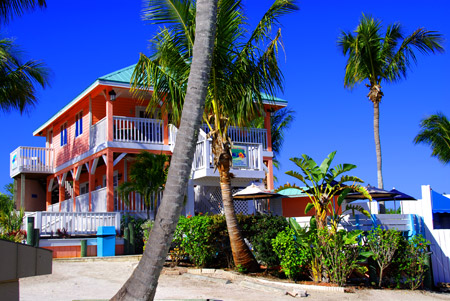 Useppa Island Collier Inn - Breakfast, Lunch, and Dinner. Useppa is a great island excursion, steeped in history and site of several archeological digs... a museum of their findings is on the island. Take Island Girl Charters there for lunch or dinner cruise. Ask us for details to make reservations.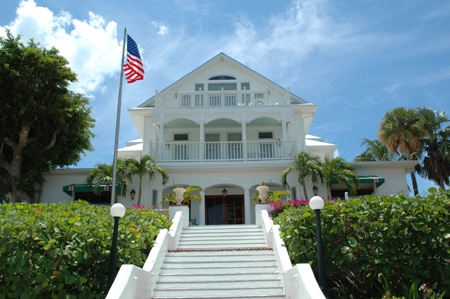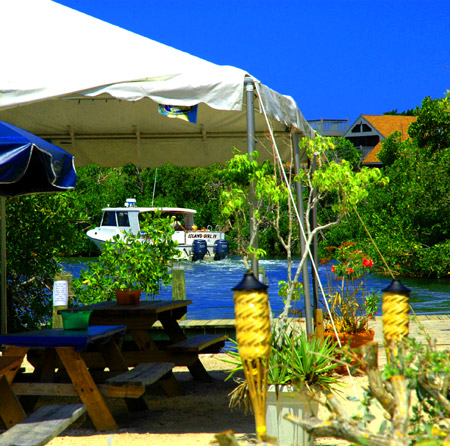 $$$$$ Dining Dollars Guide
Boathouse (NCIC) dinner only, days open may vary $$$$ Worth every penny, great service, make reservations ahead. Full bar & dessert coffees... Mark & Miranda recommend the Chocolate Bomb Dessert!.
Over the Waterfront (SHC) lunch and dinner, days open may vary $ lunch, $$$ dinner - Our favorite for lunch, bring your own wine for dinners (corking fee).
Mango's Pool Bar $$ lunches and apps $$
Mango's Take-out Dining & Ice Cream $ 
Mainstay North Capitva $$$ lunch, $$$$ dinner
Barnacle's Waterfront Bar $$$

Boca Grande - Dining Options for Breakfast, Lunch, aand Dinner. For those renting boats, parking is at the pulic docks. Ask your boat rental provider for a detailed map. For those hopping to that island with a captain, you may land at Boca Grande Marina (call ahead to rent a golf cart for the day) or at the public docks(quick walk to downtown, shops, dining, and cart rentals too)

Our favorites: 
The Pink Elephant - at the public docks. 
The Loose Caboose - for Ice Cream or Sandwiches.... walking distance, downtown.
South Beach Grille- Grouper Rueben... need to rent a cart to get there.
Captiva Island - Dining Options for Breakfast, Lunch, aand Dinner. Shopping at Chicos, and other local favorites, general store a quick walk from Jensen's.

Our favorites: 
The Green Flash - Our favorite! Dockage right at the front door. Great for lunch and dinner. 
Jensen's Marina Store - So MUCH Fun! Gas up your boat, get a beverage, always buy a t-shirt, say Hi! to the Jensen brothers... (they play music out here every now and then), pay to dock the boat while you take a walk about on Captiva. Check out our Island Hop to Captiva on You tube Soon!
Key Lime Bistro - Great "Key Lime Eggs Benedict" We are picky about "eggs benny," we grew up with the best. This is now the BEST! Gotta try it list for sure. 
Tween Waters Inn and Old Captiva House Restaurant... beautiful grounds, dockage available, wide selection on the menu. Lounge with food service, fancy dining room, and outdoor grotto/patio dining too. - The food was good, the atmosphere is charming. See my review on Trip Advisor too.

Mucky Duck- never tried it, very famous, great reviews, gotta be good... best for sunset with a chilled beverage. 
The Bubble Room - Good food, cooky decor... just like grandma's attic. Huge famous cakes for dessert... 


Pine Island - or as Miranda says...Pineapple Island... we do think that is a great name! This is home base for most visitors or residents cars. Home to Winn Dixie, post offices, and lots of dining options, though most are not accessible with the boat. 
Lazy Flamingo's - Boat right up to the docks for Great Cheeseburgers...even better hot wings! If arriving to North Captiva by private water taxi captain based at Four Winds, you are in for a treat. Stop in to 'Mingo's and enjoy. We love it. 
Tarpon Lodge - Accomodations and dining, dockage for guests. Serves lunch and dinner, close to the ferry departure point at Pineland Marina next door. If you are early for the ferry and need to relax a bit, you may want to try this place out. Great salads!

Cabbage Key Restaurant - home to a dollar bill themed restaurant too. A fun outing or place to stop for a famous "Cabbage Kreeper" 

Off-Island Dining Dollars Guide
Useppa's Collier Inn $$ lunch $$$ dinner 
Cabbage Key's Restaurant $$ lunch $$$ dinner 
Captiva's Green Flash $$ 
Captiva's RC Otters $$
Captiva's Key Lime Bistro $$
Captiva's The Bubble Room $$$
Captiva's Tween Waters Restaurant lunch $$ dinner $$$
Boca Grande's The Pink Elephant $$ lunch $$$ dniner 
Boca Grande's Loose Caboose Restaurant & Ice Cream $$
Pine Island's Lazy Flamingo @ Four Winds Marina $
Pine Island's Tarpon Lodge lunch $$ dinner $$
Cabbage Key's Cabbage Key Restaurant lunch $$$ dinner $$$